About Us
The Selmer's Story


In 1972 Selmer & Betty Schlaht went to an auction to buy a sofa for their family room. They ended up getting two, with the intent to sell one and keep the other for the room. They ended up selling both sofas thus going back to the auction to try once again to get a sofa.

Betty never did get her family room sofa, but we believe what they started was much more significant. The venture quickly grew from the rec room to a small, 1,000 sq. ft. new furniture store in south Aberdeen. Four years later Selmer's moved to their current location at 419 E. Wishkah St in downtown.

In 2005 we had our share of tragedy with the loss of Selmer Schlaht in February and within one months time had the devastating fire that destroyed the store. A new Selmers was able rise from the ashes and in June of 2006 they opened their new state of the art facility.

The three story, 29,000 sq ft. Selmers is currently operated by their children Tim Schlaht, Sherry Erickson and Vicki Trader.
Our Promise to you…

Everything revolves around the customer.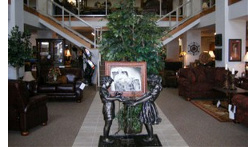 Our goal is to give our customers the best selection and the best value fortheir dollar. We have a highly trained and experienced sales staff able to assist you with any question you have or give you any help you may need.

Our buyers are constantly looking for the best deals and we always pass the savings on to the customer. We go the extra mile and it shows because we frequently get compliments regarding our service and staff. Every customer that purchases from Selmers seems to return to purchase more items in the future.

We provide our warehouse and delivery staff with the training, supplies, and tools to get the job done efficiently.