Online Catalogs
What Makes Ashley So Good?

The answer is simple. Ashely sells top-quality furniture at incredibly low prices. They start by cutting middleman costs. Using an internationally acclaimed in-house design team, They create the look without paying expensive design fees. Then, by adhering to some of the most efficient production standards in the world, they are able to maximize productivity and minimize waste – generating additional savings for you.

By having limited warehouse space at their HomeStores, Ashley Furniture greatly reduces the added expenses of space and inventory. Finally, all orders are filled from strategically located regional warehouses and are serviced by their own fleet of trucks – the largest in the industry.

Each of these individual savings greatly reduce our costs so we can keep our pricing lower. Once you shop with us, you'll see what makes Ashley Furniture the #1 selling furniture brand in North America, as well as the best furniture values.
Check out the Ashley Showroom….We will be here when you get back →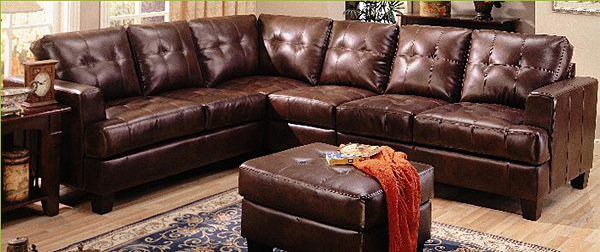 The Coaster Fine Furnishings Vision…

"At Coaster our vision is to be a global enterprise, recognized throughout the world as distinguished by our employees, customers, and competitors. We will set the standard by which other home furnishing businesses measure their performance. Our hallmark will be the innovations, initiative and teamwork of our people, and our ability to anticipate and effectively respond to change and opportunity."

Our Mission is to be the best furniture distributor in America by way of exceeding customer expectations. We will offer the best value in merchandise and the finest service to our customers. Our goal will be met in efficient operations, utilizing teamwork, uncompromising respect and cooperation, and superior communications to provide for both our employees and customers.

Principal to our values is respect for the individual, the best customer service in the home furnishings industry and the pursuit of excellence.

Coaster Company of America is one of the leading National Furniture Distributors in the United States with 7 branches nationwide and growing!
Check out the Coaster website….We will be here when you get back →

About Emerald Home Furnishings

Emerald Home Furnishings® is a full-line supplier to home furniture retailers throughout the United States and around the world. Started in 1962 as B&D Sales by Bond and Doug Shippy, the company distributed bed frames and unfinished furniture. In 1974, George Ritchie (a company representative at that time) purchased the business. The company was incorporated in 1977 and continued to grow, adding a number of additional product lines. In 1986, Evan Ritchie purchased the company from his father, starting a whirlwind of growth. In 1990, Evan purchased a mattress factory, Perfect Rest Bedding, and in 1993 he added an import division known as Emerald Home Furnishings®. In March of 2002 ownership changed; new owner David Beckmann, President, currently leads the Emerald team.
State of the Art Facilities

Today, the operation occupies a 200,000 square foot building in Tacoma, WA that houses the corporate offices, the distribution center, and mattress manufacturing facilities. The current product lineup includes fabric and leather upholstery, motion furniture, casual and formal dining room furniture, bedroom suites, a complete line of occasional tables, as well as entertainment, home office, and accent chairs. Emerald operates its own fleet of trucks covering eleven western states.
Nationally Recognized Industry Leader

Emerald is gaining national recognition as a major component of key retailers product mix.

Mission Statement:
To be an innovative supplier of quality home furnishings.

To have a reputation of integrity.

To be the vendor of choice to a select group of customers.

To attract and hold the best employees.
Check out the Emerald Furnishings website….We will be here when you get back →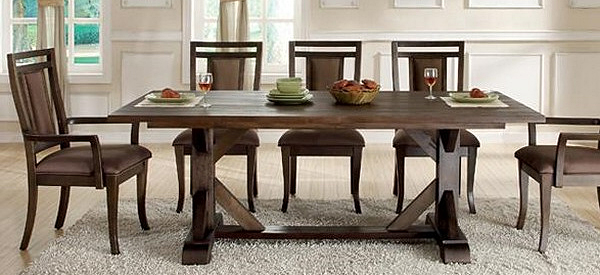 About Riverside Furniture

Riverside has been helping to make America's homes more comfortable and livable for more than a half century now.

Riverside's products are designed and constructed for use in the home and are generally not intended for rental, commercial, institutional or other applications not considered to be household usage.

Riverside uses furniture construction techniques and select materials to provide quality, durability, and value in our products and allows us to meet the wide range of design and budget requirements of our customers. The construction of our core product line consists of a combination of cabinetmaker hardwood solids and hand-selected veneers applied over medium density fiberboard (MDF) and particle board.

Riverside Furniture…as beautiful on the inside as it is on the Outside…!

MDF and particle board are used in quality furniture for surfaces that require stability against the varying environmental conditions in modern homes. The use of these materials allows Riverside to design heirloom quality furnishings that are not only beautiful, but will increase in value through the years.

Our founder Herman Udouj said it best when he established Riverside in 1946, "We want the Riverside name to be trusted for well designed, affordable furniture. It's just that simple.
Go to the Riverside….We will be here when you get back →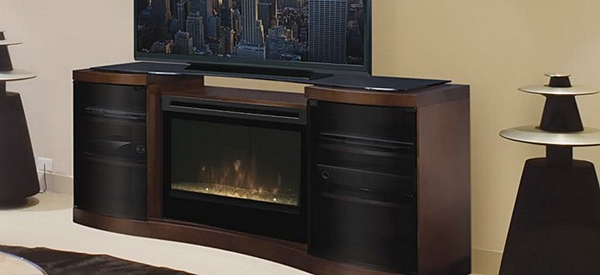 Why Choose Dimplex
Realism

Dimplex invented the modern electric fireplace and continues to lead the way with exclusive technologies that dazzle the eye and seduce the senses. Our patented 3D effect gives the fire its depth and dancing flames. And it is something you can only find on Dimplex electric fireplaces.

When you buy Dimplex you know you're getting the original…and the best.
Green

Enjoy the unique benefits of Dimplex electric fireplaces and create a warm focal point for your home, while reducing environmental impact.
Dimplex electric fireplaces use 90% less energy than gas fireplaces to produce visual flames.

No combustion means no greenhouse gasses.

Fireplaces equipped with Purifire air treatment system improves indoor air quality.

Ideal for zone heating – warm a 20′ x 20′ room and lower the central thermostat.

100% efficient with no wasted energy.
Selection

Dimplex is the only company that makes fireplaces for every application. From plug-ins to built-ins, wall mounts to stoves and fireplace inserts. Dimplex has the perfect solution for every application.
Check out the Dimplex website….We will be here when you get back →